ITS1A Clock
I didn't think that my first six tube clock would be an ITS1A clock, but after I got some of the tubes and spent a little time getting them to light up (and then be able to control what was displayed), it seemed a small step to building an actual clock.
Guiding Principles
I wanted this to be all through-hole components so that I could sell spare boards as kits for others to build.
I wanted to re-use a lot of my existing clock code that runs on ESP8266 chips.
Control Circuitry
The control circuitry is documented here. Rather than go into all the same details, I'll just summarize here:
The sub-cathode (the -250V line, pin 7) is held constant.
The 1st anode (40V, pin 2) and the 2nd anode (100V, pin 14) are normally held high, and are briefly pulled low to reset the thyratron – i.e. to make it possible to change the state of a segment. The datasheet states a shortest duration of this pulse of 500μs. In practice some tubes were reluctant to clear with this timing, so I made it configurable up to 5,000μS.
The desired state of the segments (1st grid) is then set: 0V = on, above 0.4V = off.
The state is locked in by briefly pulling the 2nd grid (pin 6) high (normally it is at 0V). Again the datasheet specifies a minimum of 100μs. I made this configurable too, up to 1,000μs.
The display is multiplexed. This is achieved by only pulsing the 2nd grid on the tube whose display should change.
Power Supply
The core of the power supply is a boost converter based around the MC33063. This is configured to produce roughly 50V. The unrectified output is then fed into a couple of Cockroft-Walton ladders to produce the 100V and -250V.
Life isn't that simple, of course. Cockroft-Walton ladders are leaky, and the MC33063 can't really produce 50V at the power levels I need. So the ladders actually go up to a nominal 150V and -300V, then Zener voltage clamps set the 100V and -250V. An interesting thing to note is the tolerance on the zener voltage. Typically this is ±5%, which is ±12.5V for the -250V level. This is a little extreme, so I managed to find some with a tolerance of ±2%.
The 40V is produced by a Zener clamp, which relies on the characteristics of the ITS1A/B tube for this pin.
Finally(?), I added some bleeder resistors to drain all those capacitors when the power is removed. These are very high voltages that can give quite a jolt. Without the bleeder resistors, it takes a couple of minutes for them to decay to around 20V.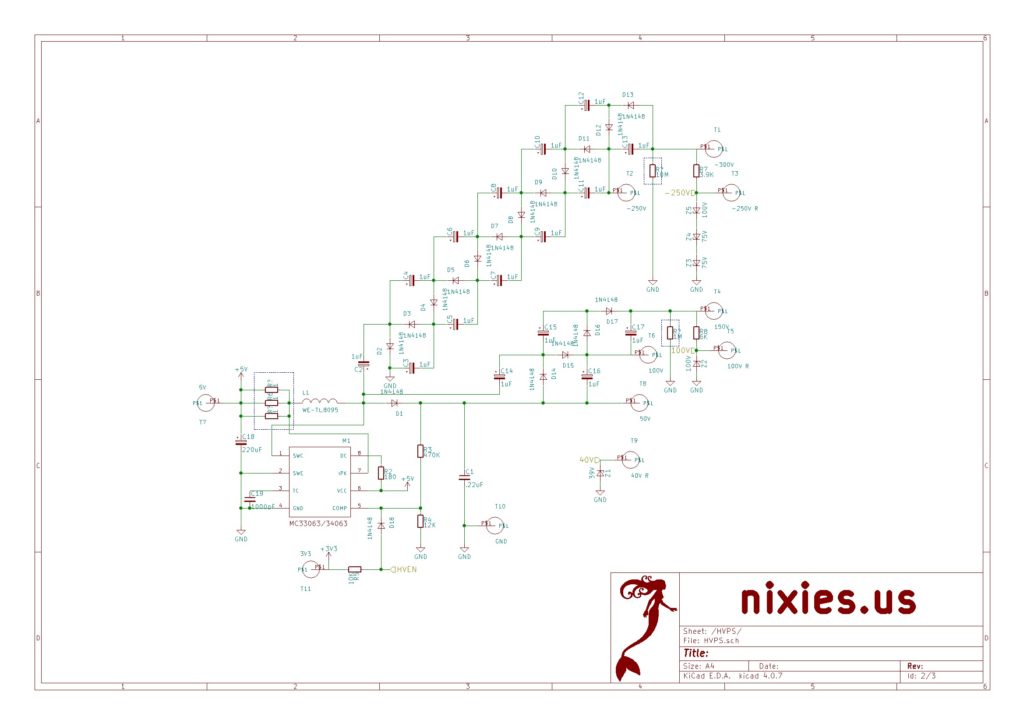 Logic-Level Components
The ITS1A/B are actually very easy to drive – by design they can be directly controlled using logic-level signals. I was somewhat limited by my self-imposed requirements – an ESP8266 and only through hole. The only off-the-shelf product that met these requirements was the ESP-01. This exposes a bare minimum of GPIO pins, but as I fleshed out how many control pins I needed, it became clear that the ESP8266 just doesn't have enough anyway. So I settled on using a MCP23017 I/O expander. It has 16 GPIO, can be controlled using I2C and works at 3V3.
Software
The software makes use of the ESP8266 wifi connectivity to synchronize time with the internet and provide a web-based configuration dashboard. In fact, there is no RTC chip in the clock.
This web control dashboard uses JQuery mobile to provide a smart-phone-friendly interface to all of the configuration options. This is an example screen:
I used the ESP8266 Core for Arduino to program the ESP8266 – it comes with many great libraries that allow me to focus on developing the actual clock code.
The clock can also be controlled via Alexa – it uses the very simple FauxmoESP library. Did I mention that the Arduino platform has great library support already?
Video
Here is a video of it in action. You can see it has backlighting. It is a string of neopixels that were literally glued on the back of the display board. The software will drive them if they are there.
Files
Sean McQuilling uploaded the boards to OSHPark: